From the white marble sculptures of the Skantzoura coast some scant indication of a trail leads inland through juniper woodlands and olive groves - up the main ridge of the island's gentle hills. It had taken me decades to finally venture up there and explore what appears like a vision of several lucid buildings against the skyline.
One day in 1989, when wildlife photogapher Konrad Wothe patiently squeezed himself for hours into a canvas hide to get his superb shots of Eleonora's falcons, on Strongylò Island offshore, I made the ascent to the abandoned Monastery of Evangelistria, dedicated to the "Ευαγγελισμό της Θεοτόκου", as I learnt later.
Giannis Florous, my fisherman friend from Wotsi on Alonnisos had come along.
I was overwhelmed! An entire entity of monastic buildings, the church, a vaulted room with a well in the floor, several more stone-built utility/storage rooms and stables; behind the monastery wide terraces of former vineyards; a round - view over the entire island of Skantzoura, the nearer and distant islands of the Marine Park in the ultramarine blue Aegean Sea.
And I was amazed that all this magnificent place had remained un-noticed. I approached the abott of the Megisti Lavra on Agion Oros for the sake of restoring the entire complex, to re-cultivate the vineyards (with the ancient variety of grapes that almost totally was eradicated by the xerophylla epidemic on Alonnisos) and replant the fertile plain of Kampos – just to become aware that the monks only considered exploitation of the valuable Skantzoura marble... I had to abandon my dream of restoring and re-viving the ruined monastery, to tune into the magic of this ever inspiring place.
Dr. Alexis Alexiou, architectural historian, has provided a description and sketches of the monastery on Skantzoura in his book of 2007,  Alonnisos: The architecture of the post – byzantine monuments.
The author refers to the antique name of Skantzoura – Skándira.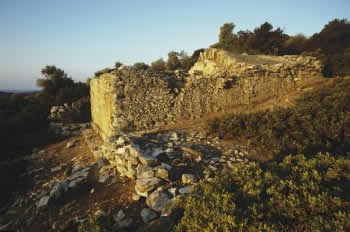 But no mention is made of an archaic building near the coast that is the very first monastery on Skantoura, according to oral local (Alonnisos) tradition. Giannis showed us the vaults and remaining upright walls, Konrad took some wide angle pictures – that was 20 years ago; all this historic monument may have fallen apart since, before it was recognized as most significant cultural heritage of the National Park.